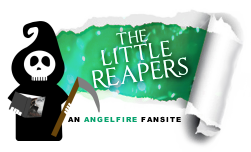 Hey Blogger Buds,
Sorry for the late post! I'm halfway through Doctor Who (I've officially become a Whovian) and I realize: Hey! Today's Tuesday! I stopped my episode in middle to come here. That's how devoted I am. I put y'all before David Tennant. (This is saying something.)
I don't have a review right here, BUT I've been guest blogging over at
The Little Reapers
! Yesterday, I
reviewed
Angelfire and Wings of the Wicked by Courtney Allison Moulton, and today was my
favorites
list! I use the word
epic
a lot. Go check it out!
Peace,
Riv