Hey Blogger buds,
So, I'm going to say this plain and simple, without any fine print or sob stories.
I'm a teenager. I'm still in school. I've got a life. A job, a family, friends, a book, whatever. Life hasn't been any more stressful than usual, but I need to chill for a bit.
So I'm going unplugged. I'll still be replying to comments and checking the blogs I follow, but I need time to set up my August posting schedule, and do what I love best: read, write and sleep.
I'll be back Sunday or Monday, with my Infinite Days review (finally).
To leave off on a happier note, here's one of the
cool
liked
loved
beloved
coveted
worshipped xkcd comics! It just came out today.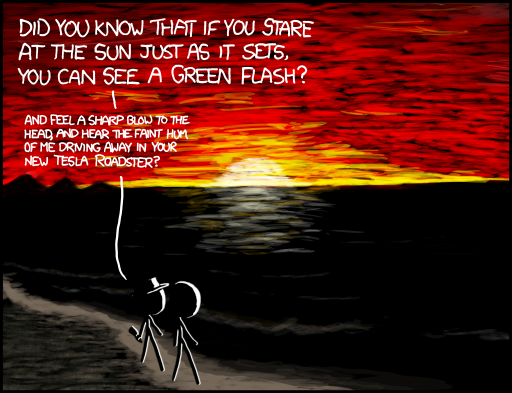 subtext:
The exact cause of the phenomenon is unknown, but it's thought to be linked to atmospheric refraction and you getting a really cool car.
Peace and buh-bye,
RR
Current Music: A cheer from camp...
Current Mood: Stressed, Sleepy, and Barely Having Written Ten Words in Main WIP in the past week!!!